Singapore March 17, 2015:  Singapore-based content distribution/production agency Bomanbridge Media announced the partnership with ER Productions/Paradiso TV to exclusively represent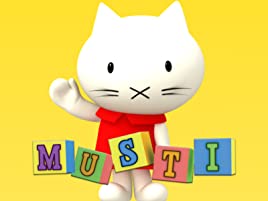 its premium children's series Musti  (available in 3D  52 X 5′) for all of Asia. Musti is an animated kitten, created in 1969 by the Belgian graphic artist Ray Goossens. The series has since become a worldwide favorite with kids 2-6 year olds, teaching children how to deal with everyday problems and how to interact with others. The series is never preachy; it teaches children in a subtle and light-hearted way, while they are being entertained. And every episode has a happy ending.
"Bomanbridge is pleased to partner with ER Productions to bring Musti ­– a long-time beloved series to broadcasters in Asia," said Sonia Fleck, CEO of Bomanbridge Media. "Musti is an evergreen character, and it is a great time in Asia to relaunch and promote such well known characters. We are sure that this can lead to lucrative revenue streams and become a favorite among young viewers and garner top ratings."
"Bomanbridge Media is the best company to get Musti into the Asian market, where we know children throughout the region will enjoy the loveable character," said Fran Uyttedaele, Owner/Licensing Manager at ER Productions. "We look forward to sharing our adored character with Asian audiences.
–
About ER Productions/Paradiso TV
ER Productions is a Belgian Family production company founded in 2006. The company is the worldwide right owner of the famous Belgian pre-school character Musti and produced the old school 2D series now into up-to-date high quality 3D series.
–
Related Posts
VideoAge        Bomanbridge Media and ER Productions/Paradiso TV Ink Deal
World Screen News/TV Kids            Bomanbridge to Rep Musti Cartoon in Asia
TBI Vision       Bomanbridge finds Musti show