Singapore, April 3 2016: Leading Singapore-based production/distribution agency, Bomanbridge Media, announced the sale of family game show format 1000 Heartbeats to TV5 Network in the Philippines. Bomanbridge Media is an Asian consultant to Sky Vision, the international production and distribution arm of Sky which represents the Hungry Bear Productions format worldwide. The first season of 1000 Heartbeats will premiere in July of this year. Sixty episodes of 60 minutes each will be produced by production house, Viva Communications.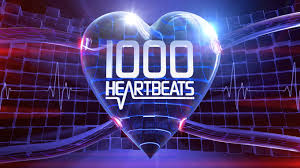 "Bomanbridge is known increasingly for presenting the best formats to Asia from all parts of the world. 1000 Heartbeats, created by Hungry Bear Productions, brings heart pounding excitement to the forefront. This exhilarating format is sure to become addictive for TV5's audience and we look forward to its success," said Sonia Fleck, CEO of Bomanbridge Media.
1000 Heartbeats is the high tension game show guaranteed to get hearts racing! Having originally aired on the UK's ITV network, in 2015 and again in 2016, each contestant has just 1000 Heartbeats to win a big cash prize. But the faster their heart beats, the quicker their time runs out. Players must complete fiendish challenges and climb their money ladder before their heartbeats run out. Keeping calm under pressure is vital if they want to leave the game with a prize, because if they flat line they'll leave with nothing! An intimidating studio and unique musical accompaniment adds to the pressure and raises pulses. Each round presents a new challenge that will test contestants' intelligence and intuition. Every mistake knocks off 25 heartbeats; swapping out a game will cost 50. After each successfully completed round, contestants must decide if they want to continue up the ladder and onto the next game, or leave with the cash accumulated to that point. But they only get to keep their winnings after successfully completing one final fiendish round – the Cash Out Game. Have they left enough of their 1000 Heartbeats in reserve to take home their prize?
---
Related Articles
C21 Media                        Heartbeats detected in Philippines
Content Asia                   Philippines' TV5 picks up "1000 Heartbeats" format
MIPTV Daily 4               1000 Heartbeats to Philippines
World Screen News      Bomanbridge Media Places 1000 Heartbeats in the Philippines